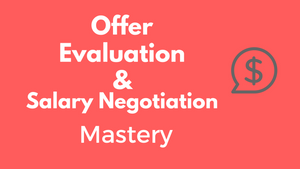 Have you ever felt that you have been stuck in a job rut in your life, doing the same things again and again and not knowing where your career is going?

Have you have ever felt like quitting your job only to realize you made a mistake by joining in the first place?

Have you wondered why there are some folks who can take their careers all the way to the "next level" becoming executives and getting promotion after promotion regularly and then there are some others who are pretty much stuck in a job they hate, only going to work for the sake of a paycheck?

Have you ever wondered why don't you get paid enough relative to your peers and wish you had negotiated a better pay package?

If the answer to any of the questions above is "Yes", then most likely you either taken up a job that doesn't match to your long-term career goals, your personal preferences and your likes and dislikes or you don't get paid relative to what you can bring to the table.

If you're wondering what does it take to select a job that matches your long-term goals, one that matches your values, one that is fulfilling and rewarding and one that pays you what you are worth, then "Offer Evaluation and Salary Negotiation" is for you.

In this course, Kunal breaks down the process of evaluating a job offer and negotiating your package into 7 steps, that he believes can take your career from "Average" to the "Next Level". He will show you the same strategies used by 6 and 7 figure executives to evaluate job offers and negotiate their pay packages to get them to that multiple 6 and 7 figure mark. Now those same strategies are available to you.

Kunal's approach to teaching uses a combination of theory and practice to help you succeed. Expect to learn tons of concepts, but expect to do even more homework at the end of each chapter. All you have to do is follow along one step at a time.