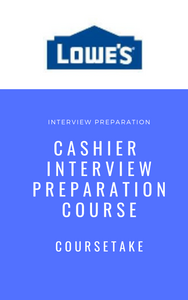 Updates:
Now with over 100 questions and answers for practice.
Added a 122-page workbook to complement the course and slides. 
Let us help you ace your upcoming Cashier interview at Lowe's.
Congratulations
Congratulations on starting the journey towards a new job at Lowe's.
Whether you are starting your new career, changing your career, moving in your current company or just looking for something new,
CONGRATULATIONS.
GREAT JOB ON GETTING TO THIS FIRST IMPORTANT STEP
The Bad News 
The entire interview process can get stressful. From phone interviews, to on site interviews, to avoiding nervousness be becoming confident, to learning about the company, to wearing the right clothes etc. etc. etc. - there is a lot going on.
THE ENTIRE PROCESS OF INTERVIEWING CAN BE OVERWHELMING 
The Bigger Problem
Lack of confidence before an interview. The # 1 reason why people fail at an interview. 
Coursetake's 8 x 3 Step Interview Preparation Plan to Ace Your Upcoming Cashier Interview at Lowe's
 To ace your Cashier interview at Lowe's, we propose an 8 x 3 Interview mastery plan that consists of 8 core steps and 3 acceleration steps.
The 8 Core Steps – Follow one step at a time.
Step 1 – Figure out the interview process at Lowe's.
Step 2 – Study the Retail Home Improvement industry.
Step 3 – Study the company Lowe's in detail.
Step 4 – Study the Job Description for a Cashier at Lowe's.
Step 5 – Study the Main Question Types.
Step 6 – Practice, Practice, Practice.
Step 7 – Ask the Right Questions.
Step 8 – Get Ready for Interview Day.
The 3 Acceleration Steps – Follow throughout the process.
Get Motivated
Get Organized
Stay Consistent
We've done the work for you
We've already researched the interview process for a Cashier at Lowe's.
We've already researched the Retail Home Improvement industry.
We've already researched Lowe's.
We know exactly how to study the job description.
We know exactly how to answer every question asked in the Cashier interview at Lowe's.
We will tell you exactly how you should practice.
We know exactly what questions you should ask.
We know exactly what you need to do on interview day.
More Importantly
We know exactly how you should work on your confidence and avoid any nervousness during your interview.
We know exactly how you should be organized.
We know exactly how you should stay consistent.
Lowe's Cashier Interview Preparation Course
This class is purely about preparing for an upcoming Cashier Job Interview with Lowe's.
My aim is to take you through a systematic process one step at a time to help you ace this upcoming interview.
Whether it's on the phone, in person, or through video.
Whether it's your group interview or individual interview.
My approach will be to first teach you a lesson (modules) and then give you homework for you to complete.
This class consists of worksheets and slides, along with the video lectures, that you can download.
I've seen that the most successful candidates are the ones who NOT ONLY follow the lessons, but do the homework at the end of it all.
THIS COURSE WILL BE COMBINE THEORY AND PRACTICE TO HELP YOU SUCCEED.
The Course Outline
About Coursetake
Our Mission is to help students ace their upcoming interview.
We do that through job title and company specific interview training. Over 500,000 students helped in over 100 countries. Learn more at www.coursetake.com 
We are all hiring managers. We will give you the hiring manager's perspective. The person who is going to write you a paycheck. Not recruiters or human resources.
Learn more at www.coursetake.com 
What will you get as part of this course?
369-page slide on how to ace the upcoming Customer Service Associate Interview at Lowe's.
3 hours of video to walk you through everything.
122-page workbook to complement the slides.
24/7 email support whenever you want it.
Tons of Frameworks and over 100 Questions and Answers for Practice
Sample Questions and Answers Covered as Part of this Course
What would you do if you walked down an aisle and saw a spill on the floor?
Do you have a cashier background?
Tell me about a time that you worked in a team, and what was the outcome?
What degree are you working towards?
What kind of challenges did you face in a previous job?
Name a time in your life when you had to calm a person down that was upset and what did you say?
Tell me about a time you helped a customer
What schedule can you work?
Explain a time that you were put in a dangerous situation at work and how did you handle it?
How have you handled customer conflict in the past?
Describe a situation when you worked to identify the needs of a customer or co-worker.
Have you ever had a time when you had to ensure the safety of others and what you did you do in the situation?
How did you react when a customer yells at you?
How would you help a customer to find the specific product they were looking for?
How would you help a customer out if they asked you about something you weren't familiar with?
How have you handled customer disputes at past retail positions?
Tell me about a time when you thought outside the box?
Why do you want to work for Lowe's?
Name a time that you had to meet a deadline and how did you meet the deadline.
About Lowe's
Lowe's Companies, Inc. (NYSE: LOW) is a FORTUNE® 50 home improvement company serving more than 17 million customers a week in the United States, Canada and Mexico. With fiscal year 2015 sales of $59.1 billion, Lowe's has more than ... Read more
Mission: Lowe's has been helping customers improve the places they call home for more than 60 years.

Founded in 1946 and traded on the New York Stock Exchange since 1961, Lowe's (LOW) has grown from a small hardware store to a total home improvement company providing customers inspiration and support whenever and wherever they shop. Whether our customers shop in store, online, by phone, or if we're meeting them at their home or place of business, Lowe's is ready to help.
Cashiers at Lowe's
Responsible for responding to customer inquiries, providing support throughout their shopping experience including promoting customer loyalty plans and/or extended protection/replacement plans, processing sales and returns using a cash register, and addressing customer complaints.
Job Requirements:
Requires morning, afternoon, and evening availability any day of the week. Physical ability to move large, bulky and/or heavy merchandise. Physical ability to perform tasks that may require prolonged standing, sitting, and other activities necessary to perform job duties.
Minimum Qualifications
6 months experience using a computer, including inputting, accessing, modifying, or outputting information.
6 months experience using a handheld device (e.g., mobile phone, LRT gun, palm pilot, tablet, iPod) to enter, access, and output information.
Preferred Qualifications
Associate's Degree in Business, Retail Management, Specialty related to department (e.g., design, appliances), or related field.
6 months experience identifying and selling products based on customer needs, including credit cards, installations, add-on sales, and explaining warranties, product features, and benefits.
6 months retail experience.
6 months experience as a cashier.

Disclaimer: 
We are not affiliated, associated, authorized, endorsed by, or in any way officially connected with Lowe's or any of its subsidiaries or its affiliates.